So if you're like me you instantly click on every Buzzfeed or Elite Daily article with the title "What to Read after Gone Girl" or "What to Read after The Girl on The Train." Most times I scroll and think read it-read it-that has terrible reviews- ooh that looks good...
Well I've decided to do my own looking around and have come up with my top 10 most wanted to read thrillers in 2017! Unique plots, rave reviews, && a little different than those other articles clogging my Facebook newsfeed.
Here they are...enjoy!
What thrillers are you planning to read this year? Share in the comments below!
Joe Goldberg is no stranger to hiding bodies. In the past ten years, this thirty-something has buried four of them, collateral damage in his quest for love. Now he's heading west to Los Angeles, the city of second chances, determined to put his past behind him.
In Hollywood, Joe blends in effortlessly with the other young upstarts. He eats guac, works in a bookstore, and flirts with a journalist neighbor. But while others seem fixated on their own reflections, Joe can't stop looking over his shoulder. The problem with hidden bodies is that they don't always stay that way. They re-emerge, like dark thoughts, multiplying and threatening to destroy what Joe wants most: true love. And when he finds it in a darkened room in Soho House, he's more desperate than ever to keep his secrets buried. He doesn't want to hurt his new girlfriend—he wants to be with her forever. But if she ever finds out what he's done, he may not have a choice...
At the end of a long winter, in bucolic Ridgedale, New Jersey, the body of an infant is discovered in the woods near the town's prestigious university campus. No one knows who the baby is, or how her body ended up out there. But there is no shortage of opinions.
When freelance journalist, and recent Ridgedale transplant, Molly Anderson is unexpectedly called upon to cover the story for the Ridegdale Reader, it's a risk, given the severe depression that followed the loss of her own baby. But the bigger threat comes when Molly unearths some of Ridgedale's darkest secrets, including a string of unreported sexual assaults that goes back twenty years.
Meanwhile, Sandy, a high school dropout, searches for her volatile and now missing mother, and PTA president Barbara struggles to help her young son, who's suddenly having disturbing outbursts.
Told from the perspectives of Molly, Barbara, and Sandy, Kimberly McCreight's taut and profoundly moving novel unwinds the tangled truth about the baby's death revealing that these three women have far more in common than they realized. And that their lives are more intertwined with what happened to the baby than they ever could have imagined.
At twenty-two, Bibi Blair's doctors tell her that she's dying. Two days later, she's impossibly cured. Fierce, funny, dauntless, she becomes obsessed with the idea that she was spared because she is meant to save someone else. Someone named Ashley Bell. This proves to be a dangerous idea. Searching for Ashley Bell, ricocheting through a southern California landscape that proves strange and malevolent in the extreme, Bibi is plunged into a world of crime and conspiracy, following a trail of mysteries that become more sinister and tangled with every twisting turn.
Unprecedented in scope, infinite in heart,
Ashley Bell
is a magnificent achievement that will capture lovers of dark psychological suspense, literary thrillers, and modern classics of mystery and adventure. Beautifully written, at once lyrical and as fast as a bullet, here is the most irresistible novel of the decade.
Katie and Eric Knox have dedicated their lives to their fifteen-year-old daughter Devon, a gymnastics prodigy and Olympic hopeful. But when a violent death rocks their close-knit gymnastics community just weeks before an all-important competition, everything the Knoxes have worked so hard for feels suddenly at risk. As rumors swirl among the other parents, revealing hidden plots and allegiances, Katie tries frantically to hold her family together while also finding herself drawn, irresistibly, to the crime itself, and the dark corners it threatens to illuminate. From a writer with "exceptional gifts for making nerves jangle and skin crawl," (Janet Maslin)
You Will Know Me
is a breathless rollercoaster of a novel about the desperate limits of desire, jealousy, and ambition.
Sisters. Strangers. Survivors.
More than twenty years ago, Claire and Lydia's teenaged sister Julia vanished without a trace. The two women have not spoken since, and now their lives could not be more different. Claire is the glamorous trophy wife of an Atlanta millionaire. Lydia, a single mother, dates an ex-con and struggles to make ends meet. But neither has recovered from the horror and heartbreak of their shared loss—a devastating wound that's cruelly ripped open when Claire's husband is killed.
The disappearance of a teenage girl and the murder of a middle-aged man, almost a quarter-century apart: what could connect them? Forming a wary truce, the surviving sisters look to the past to find the truth, unearthing the secrets that destroyed their family all those years ago . . . and uncovering the possibility of redemption, and revenge, where they least expect it.
Powerful, poignant, and utterly gripping, packed with indelible characters and unforgettable twists, Pretty Girls is a masterful thriller from one of the finest suspense writers working today.
Held captive for eight years, Lily has grown from a teenager to an adult in a small basement prison. Her daughter Sky has been a captive her whole life. But one day their captor leaves the deadbolt unlocked.

This is what happens next...

...to her twin sister, to her mother, to her daughter...and to her captor.
The request seems odd, even intrusive—and for the two women who answer, the consequences are devastating.
Emma
Reeling from a traumatic break-in, Emma wants a new place to live. But none of the apartments she sees are affordable or feel safe. Until One Folgate Street. The house is an architectural masterpiece: a minimalist design of pale stone, plate glass, and soaring ceilings. But there are rules. The enigmatic architect who designed the house retains full control: no books, no throw pillows, no photos or clutter or personal effects of any kind. The space is intended to transform its occupant—and it does.
Jane
After a personal tragedy, Jane needs a fresh start. When she finds One Folgate Street she is instantly drawn to the space—and to its aloof but seductive creator. Moving in, Jane soon learns about the untimely death of the home's previous tenant, a woman similar to Jane in age and appearance. As Jane tries to untangle truth from lies, she unwittingly follows the same patterns, makes the same choices, crosses paths with the same people, and experiences the same terror, as the girl before.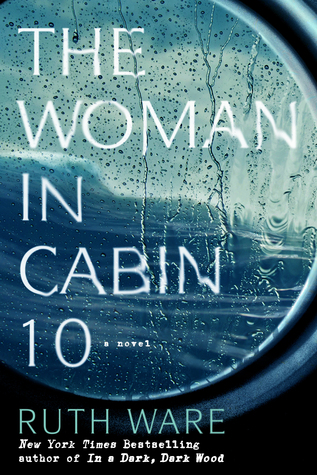 In this tightly wound story, Lo Blacklock, a journalist who writes for a travel magazine, has just been given the assignment of a lifetime: a week on a luxury cruise with only a handful of cabins. At first, Lo's stay is nothing but pleasant: the cabins are plush, the dinner parties are sparkling, and the guests are elegant. But as the week wears on, frigid winds whip the deck, gray skies fall, and Lo witnesses what she can only describe as a nightmare: a woman being thrown overboard. The problem? All passengers remain accounted for—and so, the ship sails on as if nothing has happened, despite Lo's desperate attempts to convey that something (or someone) has gone terribly, terribly wrong…
With surprising twists and a setting that proves as uncomfortably claustrophobic as it is eerily beautiful, Ruth Ware offers up another intense read.
Two sensational unsolved crimes—one in the past, another in the present—are linked by one man's memory and self-deception in this chilling novel of literary suspense from National Book Award finalist Dan Chaon.
"We are always telling a story to ourselves, about ourselves," Dustin Tillman likes to say. It's one of the little mantras he shares with his patients, and it's meant to be reassuring. But what if that story is a lie?
A psychologist in suburban Cleveland, Dustin is drifting through his forties when he hears the news: His adopted brother, Rusty, is being released from prison. Thirty years ago, Rusty received a life sentence for the massacre of Dustin's parents, aunt, and uncle. The trial came to symbolize the 1980s hysteria over Satanic cults; despite the lack of physical evidence, the jury believed the outlandish accusations Dustin and his cousin made against Rusty. Now, after DNA analysis has overturned the conviction, Dustin braces for a reckoning.
Meanwhile, one of Dustin's patients gets him deeply engaged in a string of drowning deaths involving drunk college boys. At first Dustin dismisses talk of a serial killer as paranoid thinking, but as he gets wrapped up in their amateur investigation, Dustin starts to believe that there's more to the deaths than coincidence. Soon he becomes obsessed, crossing all professional boundaries—and putting his own family in harm's way.
Ten years ago, college student Quincy Carpenter went on vacation with five friends and came back alone, the only survivor of a horror movie–scale massacre. In an instant, she became a member of a club no one wants to belong to—a group of similar survivors known in the press as the Final Girls. Lisa, who lost nine sorority sisters to a college dropout's knife; Sam, who went up against the Sack Man during her shift at the Nightlight Inn; and now Quincy, who ran bleeding through the woods to escape Pine Cottage and the man she refers to only as Him. The three girls are all attempting to put their nightmares behind them, and, with that, one another. Despite the media's attempts, they never meet.
Now, Quincy is doing well—maybe even great, thanks to her Xanax prescription. She has a caring almost-fiancé, Jeff; a popular baking blog; a beautiful apartment; and a therapeutic presence in Coop, the police officer who saved her life all those years ago. Her memory won't even allow her to recall the events of that night; the past is in the past.
That is, until Lisa, the first Final Girl, is found dead in her bathtub, wrists slit, and Sam, the second, appears on Quincy's doorstep. Blowing through Quincy's life like a whirlwind, Sam seems intent on making Quincy relive the past, with increasingly dire consequences, all of which makes Quincy question why Sam is really seeking her out. And when new details about Lisa's death come to light, Quincy's life becomes a race against time as she tries to unravel Sam's truths from her lies, evade the police and hungry reporters, and, most crucially, remember what really happened at Pine Cottage, before what was started ten years ago is finished.